Marshall Baseball Association donates $26,000 for future improvements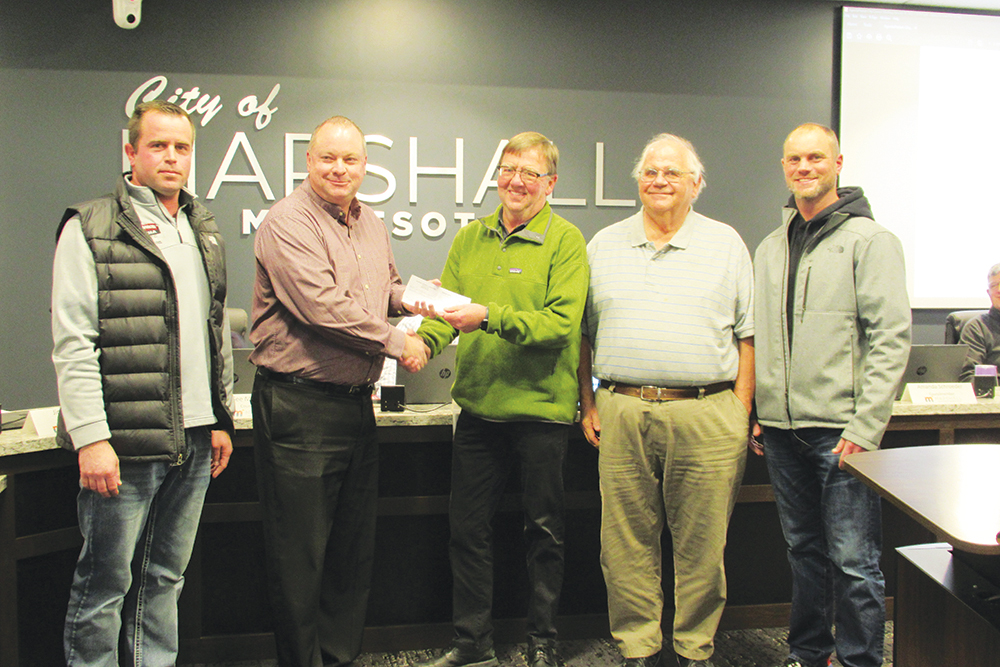 MARSHALL — Legion Field isn't just a great place to play ball, Marshall community members said. It draws a lot of people into the community.
"Once baseball season starts, it's pretty well used every day," said Marshall parks and recreation director Preston Stensrud. He said the field is the site of an average of 100 to 110 games a year.
Supporters of Marshall amateur baseball say they want to help keep that connection going. On Tuesday, members of the Marshall Baseball Association presented the city with a $26,000 donation toward future improvements at Legion Field.
"This was an opportunity to help the city," said Kelly Loft, of the Marshall Baseball Association board. "It's a great way to invest back to the field."
Marshall Mayor Bob Byrnes said he wanted to give the Baseball Association "a sincere thank-you" for their contribution.
"The city of Marshall and the Marshall Baseball Association have really a long history of partnerships, and that partnership has resulted in quality facilities," Byrnes said. "That doesn't happen without really good leadership, and that's what we have here."
"It's always great to be in collaboration with the groups and associations in Marshall – even businesses are willing to help out," Stensrud said.
Stensrud said the city is working with landscape architect group Confluence to design future updates to Legion Field.
"About a year ago now, we started working with Confluence," Stensrud told Marshall City Council members on Tuesday. Confluence is the same firm that designed the terrace outside Marshall's new City Hall building.
He said they're looking at areas like the dugouts, restrooms and concessions, and improving drainage near the field's backstop. The improvements wouldn't only help maintain the quality of the baseball field, but make Legion Field and Legion Field Park a draw for spectators, he said.
Stenstrud said the city hopes to space out planned updates for Legion Field in phases. Specific plans have not been finalized yet, but Stensrud said the city is working with Confluence to try and move forward with designs that address the needs of all the groups who use the park.
"With that is going to come a lot of collaboration – from associations, the university uses (the park), the school uses it for Tiger baseball, youth baseball, and so on," he said.
Stensrud said the city has started a project account, which will hold the donated funds until plans are further along.
Partnerships between the city and community organizations like the Baseball Association have been important for making Legion Field a high-quality facility and park, Loft said. A few years ago, the association was also one of the groups that helped contribute to infield improvements at Legion Field.
Legion Field is the site of games for high school, college and amateur baseball teams, as well as tournaments, Loft said. "It brings a lot of people to the community of Marshall," he said.
Loft said the association hoped the donation would help encourage future community partnerships to support updates at Legion Field.
At Tuesday's city council meeting, Loft also thanked Stensrud and city staff for their work on the field.
"Preston, his staff does an unbelievable job. I can't stress that enough," Loft said. "It's been a great partnership."
(EDITOR'S NOTE: This is a copy of the article from Marshall Independent. Original article can be viewed here: https://www.marshallindependent.com/news/local-news/2023/01/investing-back-into-legion-field/ )